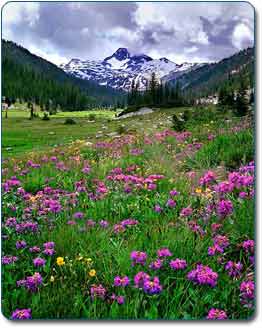 Home Page for David Jensen Photography:
Some pages still under construction.
For decades, I have been a commercial, fine art, and stock photographer who has simultaneously maintained a commercial studio in Oregon's northeast corner while sparing as much time as possible to photograph the western United States. I divide my time between selling services and selling images accumulated during years of travel with a backpack full of cameras.
From the beginning of my photographic explorations of the North American landscape nearly thirty years ago, my chief goal has been to build a comprehensive collection of definitive images of the Eastern Oregon scene, from the high volcanos of the Cascade Range on the west to the Wallowa Mountains on the east. When not prowling about in eastern Oregon, however, my cameras and I have frequently wandered north to Canada, south to Mexico, east to the Grand Tetons, and west to the Oregon coast and Washington Olympics. My collection now totals over 40,000 images. Whenever logistically possible, I have used large format cameras to capture the land in precise and exquisite detail. I especially like photos with content, i.e., imagery that might be regarded as artistic yet at the same time as revealing of geological, historical, and environmental processes.
My photos and writings have appeared in such national publications as Popular Photography and Outdoor Photographer and in books by National Geographic and Time-Life. My client list includes most of the major publishers of scenic calendars, and my photos have appeared on the front covers of both Audubon and Sierra Club Calendars, as well as on the covers of many other calendars, books, and magazines. Oregon Public Broadcasting's Oregon Art Beat television program profiled my photographic efforts in 2003. My prints can be found in galleries throughout Oregon.
Over the years, I have accepted photo assignments from newspapers, magazines, manufacturers, small businesses, and government agencies. My product photography includes both interpretive and precise copy work of paintings, pottery, jewelry, metal work, carvings, furniture, and bronze sculptures. Examples of commercial and architectural work can be seen here.
The galleries accessible on this site include 200 images. For a different and somewhat wider selection of 230 keyword searchable images and an extensive stocklist, go to http://www.agpix.com/djensen
Thanks to living at the foot of Wallowa Lake, the Wallowa Mountains, and the Eagle Cap Wilderness for over thirty years, I have more extensive photos of these subjects than of any other subject and very probably more extensive photographic coverage than exists anywhere else.